Diageo
New 'over 18' age gate for Diageo to lead to an 18% conversion rate improvement in week one.
Diageo is a global leader in alcoholic beverages with a wide collection of international brands including, Smirnoff, Baileys, Guinness and more.
The Global Digital function was embarking an on ambitious programme to drive and build the capability to use technology into all aspects of global Marketing. The function also needed to scale internal capability and prove its ability to build and manage technology. At the same time, a global initiative around age gates was underway. An age gate's purpose is to ensure only over 18s enter the thousands of their brand and international websites. The previous age gates were overly complex, not consistent across brands, uninviting and achieving a low conversion rate.
Diageo needed a simplified, consistent and more engaging age gate that would encourage over 18s to continue on the website. This project had already been attempted by another third party, however due to the many complexities and sensitivities (across numerous stakeholders/brands and locations) it was never taken across the line.
Bring on AND Digital…
This was an ideal opportunity to deliver the new age gate and demonstrate the new ways of working and managing an internal development capability. Despite the many complexities involved, AND Digital was able to roll out a slick and intuitive age gate for all the brand websites for Diageo (The Bar, Captain Morgan, Baileys etc.) quickly and efficiently. The new age gates had reduced copy, fewer data input fields, is mobile responsive and has automatic detection of language and country.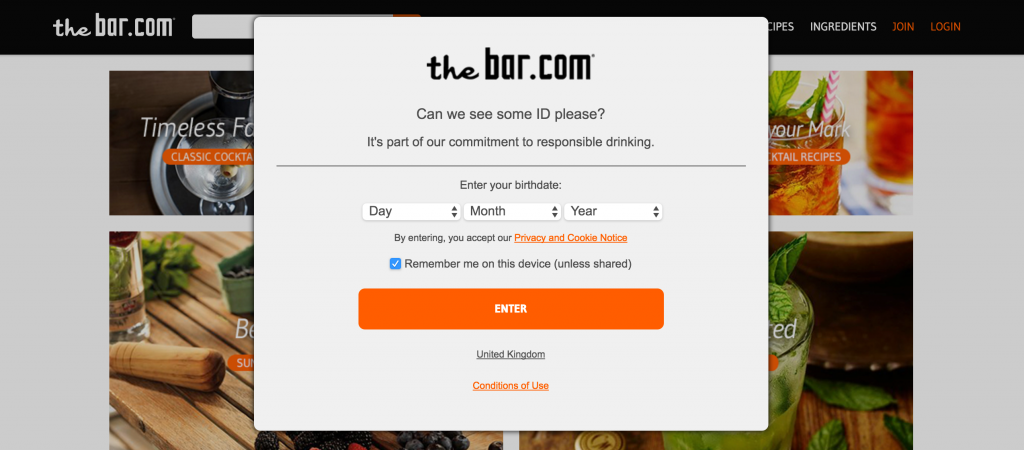 An example of one of the age gates created.
The remarkable bit…
The impact was immediate, with an increase in conversion rate of 18% in the first week AND demonstration of the ability to internally manage and deliver digital products and features for marketing.