Article
What is "Lulu Dans Ma Rue"?
31 January 2018 | Sandra Falque | About a 4 minute read
Tags: Digital, professionalising Digital, values, wonder
As part of our quarterly "Action Day", the Professionalising Digital team went to Paris in October to focus on one of our core values: "Wonder".
We decided to use this day to explore two innovative businesses and concepts that could help us be more creative when working with clients and thinking about how to develop ourselves internally.
As part of this special day in Paris, we had a Q&A session with "Lulu dans ma rue", a new concept which aims at reinventing access to services in a local area.
What is "Lulu dans ma rue"?
Lulu was created in 2014 to "put human interactions back into people's life". More specifically, Lulu connects entrepreneurs and inhabitants of a local area looking for some help to look after their dog, water their plants, build their IKEA furniture or even act as a chef for one night and prepare dinner for their friends.
In total, customers can choose from more than 21 services and find a "Lulu" while visiting a local kiosk or market stand, calling the team or using the friendly website.
With an average cost of 5€ per 20min, Lulu's services are cheap and meant to remain so. "The short term goal is to reconnect inhabitants of a local area with each other, and to have kiosks spread all over Paris" our guide explains. "Profits are not a priority for now".
The brand also organises free local workshops for neighbours to meet each other, workshops include; tote bag customisation, local drinks or Q&A sessions.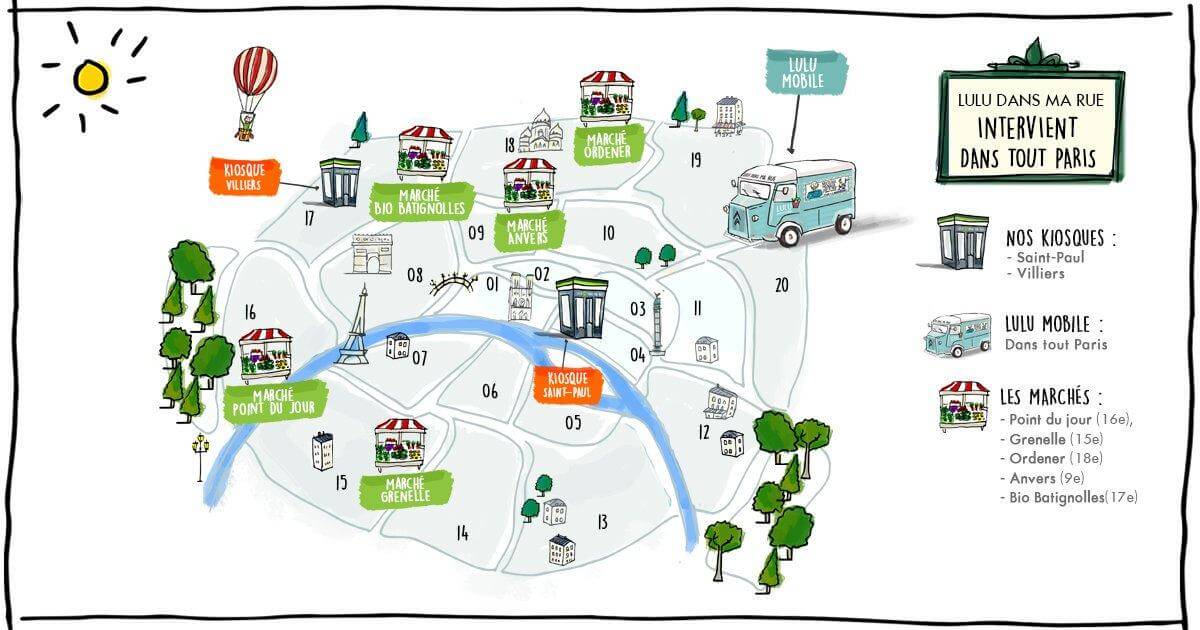 Who are the Lulus?
The 'Lulus' are self-employed (micro)entrepreneurs who invoice the services provided to 'Lulu dans ma rue', which manages the customers, organises contact between the two parties, and provides some administrative support.
A 'Lulu' can be anybody with time that wants to supplement their income, such as job seekers, students or retirees. But it can also be somebody with specific skills, such as freelancers, looking to expand their network.  
Every Lulu is insured and when Parisian's report their earnings, they receive fifty percent off taxes.
What's next?
Even though Lulu's short term ambition is not to drive profit or to be a best-in-class digital company, new technologies could prove to be a great way to promote the enterprise and its services.
Examples of how digital investments could support Lulu's ambitions include:
Analysing customers and "Lulus" data to understand profile, age, preferred services, communication and booking channel – to offer targeted promotions and updates.

Merge offline and online data to create a unique view of the customer and offer a seamless customer experience.

Create an app which could enable customers to book services online on a preferred slot (such as Task Rabbit or Bizzby) but also to chat with neighbours in real time or organise a social event in a few clicks.

Use chatbot on the website

to answer frequently asked questions, from customers and Lulus.

Propose "fan only" events or offers on social networks to extend the Lulu community.

Provide some user friendly administrative support online to explain how to become a Lulu in a few steps (and provide relevant materials).
Conclusion
While most new startups only rely on digital communications and new technologies, it is refreshing to explore a new way to innovate, whilst caring more about renewing with human relationships than about making revenue or profit.  
With its multichannel offering, Lulu reaches not only young professionals but also elderly people who prefer giving a quick call or going to a local kiosk than using a website or app.
In my view, digital is not meant to replace face to face interactions but to improve customer experience, including offline. With its simple and attractive offering for both customers and service providers, I'm confident that Lulu will keep growing in Paris first, and then wider France and abroad. We are now looking forward to seeing how the business develops, and how it will make the most of online technologies to reach its original goal: to create work and neighbourly unity.

Read More From This Author
Careers
We're looking for bright, dynamic people to join our team!
Senior Full Stack Developer (London)

Champion software quality and technical vision for AND and our clients, work on large-scale projects and help junior and mid developers grow in their roles.

I'm Interested

Full Stack Developer (London)

Put your development expertise to work, building remarkable, digital products in Agile environments using a variety of languages and frameworks.

I'm Interested

React Native Engineer (London)

Champion software quality and technical vision for AND and our clients, work on large-scale projects and help junior and mid developers grow in their roles.

Technologies you will be using

javascript

react

terraform

docker

gulp

gitlab

grunt-seeklogo

jira

I'm Interested
Discover More Roles