Article
Matrix Organisations
23 May 2018 | Prag Patel | About a 4 minute read
Tags: Agile, Analysis, architecture, Matrix, Organisations, software development, team
Challenges of setting up digital matrix organisation
The challenge for traditional businesses that want to embrace a product based (agile) way of working is how to structure and set-up their existing teams and functions alongside product teams. Matrix models which combine both are becoming increasingly common.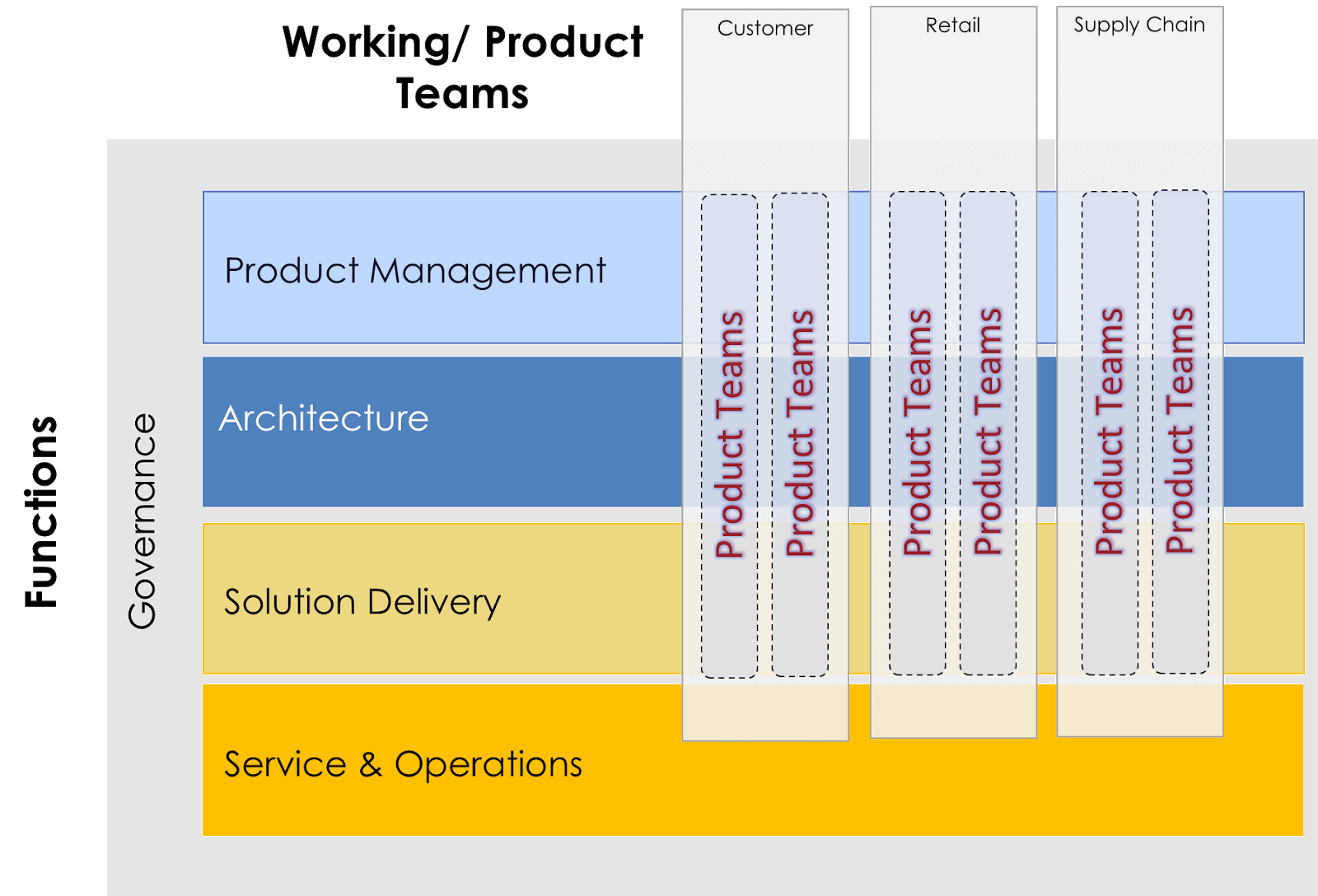 However, a disproportionate amount of time is spent discussing and agreeing functional team design (e.g. Analysis, Architecture, Software Development, etc.), accountabilities, separation of roles and line reporting within these teams.
For the majority of people, most of their working time is spent with their working (product) team. The needs they have from their functional teams is largely focussed on two things: being part of a like-minded community with shared interests, similar skills and desire for knowledge; and, guidance on their own personal development.
Both of these can be achieved, more successfully, outside of the functional teams:
Communities of interest

are starting to appear. They are more successful in their aim of sharing knowledge, good practices and developing skills than functional teams ever were. Largely due to being organised and run by the very people that they benefit. With a little support and encouragement from the business, through providing a venue to meet (office space) and possibly a small budget, communities start to really flourish.

Personal development

through functional teams is normally expected to be carried out by line managers. However, the majority of line managers are not skilled and / or trained to do this; and, many see this as an overhead. A different approach would be to take this out of the hands of line managers and have this performed by people that are identified as having the right skills, capability and time to do this well. It's well documented how hard it is to find the right talent where many companies are looking for similar skills. Investing in developing and retaining people should be a high priority.
The role of the functional team can be simplified to provide a few key things:
Understanding and evaluating trends

in their respective functional area(s) and adapting/introducing new working methods e.g. new tools, working processes, etc

Planning for future resource capacity and skills

to allow resourcing plans to be determined

Developing and agreeing methods and standards

to deliver work to drive consistency and quality
Product teams are a new and different way of organising for most companies that want to embrace an iterative (agile) way of delivering work. The key difference being, the teams cut across traditional departmental boundaries. These teams are organised around the product to be built/delivered and effectively led by the Product Manager. Just to be clear, the Product Manager is not expected to be the line manager for the everyone in the team. Line management would work in the way as as described above.
The main considerations in the design of Product teams are:
What the product teams will be, how many are needed and when should they be set-up.
– As a simple starting point, product teams can be simply aligned to business units that cut across the business or aligned to end to end business processes that deliver a service to customers.


– The number of teams and priority is driven by factors such as level of spend, expected value being delivered, availability of skilled resources and also technology capability

What new roles are needed and how are they different from those that exist today
– For most organisations the key roles of Product Manager and or Owner will be new. They combine a set of skills and responsibilities that were spread across several different existing roles.


– For these roles in particular, the responsibilities should be agreed by all departments where these respective roles will be needed

How the people in the new teams and roles need to work together


– The idea of having a cross functional team that comes together to deliver work should make it easier to get things done. The ways of working for the internal team is in theory easier to establish. They can be supported by team training sessions and coaching to get everyone working in the same way. The harder part is getting the governance processes and roles around the team established. The purpose of these roles should be focussed on removing obstacles to allow the team to deliver and work effectively.

Getting product management set-up and established in the business
– Product Management is a new discipline for most organisations. To truly achieve the benefits of this approach, the organisation needs to both understand and encourage a product-based way of working.


– Time needs to be spent on building a product vision and roadmap from which a prioritised backlog of features can be developed. Setting up product teams without this may result in the work being delivered by the product teams not being valued.
Enabling the Product teams to be effective requires greater clarity on how the team will work and how decisions are made. Ultimately this is where time needs to be really spent when structuring and setting up new matrix based organisational structures.
Read More From This Author
Careers
We're looking for bright, dynamic people to join our team!