Article
How Working With STEM Is Helping Us Reduce The Technical Skills Gap
11 September 2017 | Ruairi McVeigh | About a 3 minute read
Tags: engineering, females, First Mile, maths, recruiting, Recruitment, schools, science, STEM, Stemettes, technology, Women in Tech, womenintech
AND Digital loves STEM. We really do. In this case I am specifically talking about Science, Technology, Engineering AND Maths. Although we consider these to be profound subjects there is still a really low uptake on these subjects into secondary education and college.
This is especially true amongst young females. At AND Digital, we see this as much as our problem as schools and the government. If young minds aren't taking up these subjects, how do we fill our company with fresh tech pioneers?
Over the last 2 years, AND Digital has been heavily involved in promoting STEM subjects across the board. Initially we began working with Highbury and Islington council to promote STEM skills in schools within the borough. Over a year, we gave 7 sessions at Highbury Fields Girls School, where we gave the students the opportunity to learn more about AND Digital, computing in general and a day in the life of some of our fantastic ANDis, and we got some of this great feedback…
"AND Digital create cool apps for their customers that help us in our everyday lives"
"I didn't know technology could be so cool"
"I would consider working in technology, it looks really fun"
– Anon, Highbury Fields School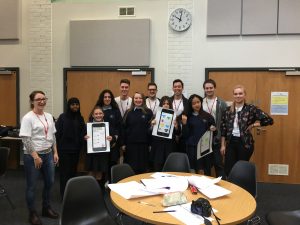 Across the company, we have invested training days to qualify a handful of our ANDi's as STEM ambassadors, which means that they are now accredited to go into learning environments and promote STEM even further. For us this is a no brainer. If we want to recruit the best people, we need to make sure we are doing everything in our power. Not just in the recruitment world, but also in the learning world. Let's invest to give better opportunities for a career in technology.
Over the next 12 months, our plan is to expand the work we are doing with STEM and branch out to other councils across London. This has been backed by the government who have introduced Computer Science as a GCSE and an A Level. In recent months, we have been working with Hackney council who are keen to have us help bridge the technical skills gap across their borough. Our aim is to put together and teach modules from the curriculum using real world industry information, whilst of course, bringing that ANDi spin to help make students make informed choices about their future.
As we continue to expand as a company, we strive to do more and more each year to help young minds enter the STEM workplace, and to increase lowly represented demographics. Over the coming months, we will be publicising our work across STEM and continuing to identify new opportunities along the way.
If you have a real passion about technology and helping shape the future of STEM, AND Digital could be a great place for you. Check out our website to find out more. We're hiring!
Read More From This Author
Careers
We're looking for bright, dynamic people to join our team!