Article
Hosting Code Your Future – the UK's first refugee coding school
30 May 2017 | About a 3 minute read
Tags: Code Your Future, corporate social responsibility, CSR, STEM
One of the things I enjoy most about working for AND Digital is the work we do in CSR (Corporate Social Responsibility). Last year, we spent time visiting schools around London to speak to young people about careers in tech. This year, while we want to continue our work with schools, we also wanted to branch out and see what other groups we could work with.
Earlier this year, I came across an article about Code Your Future online. It's a not-for-profit organisation that teaches refugees to code over the course of six months, with the hope that they will then be able to enter the workforce in tech roles. I got in touch with Germán Bencci, the founder, who invited us to the graduation of their first bootcamp. Ruairi Mc Veigh and I attended the graduation in the Ticketmaster offices and got to hear all about the organisation, the work they were doing and the students' experiences.
Inspired by what we had heard, Ruairi and I agreed that this was something we'd like to incorporate into the STEM events we organise. After a call with Germán, we identified a couple of areas that would be of value for the students to learn, one of which was an introduction to discrete maths. In most computer science degrees, one will usually go through a maths module. As computer science is a branch of mathematics, it really does help to get a solid grounding in the logic of what we're learning.
After preparing a half day workshop, we were ready to host the Code Your Future students at our AND Digital offices last Sunday. Obviously we couldn't squash a whole university module down into one day, so Ruairi and I picked out three areas: Set Theory, Logic and Probability. The workshop was a mix of Ruairi and I presenting information and giving the students exercises to complete, while Anjana Hewage helped give the students one on one guidance. We had about 12 students in attendance, some from Syria, Sri Lanka and Ethiopia, among others. They're a fantastic group of people, everyone was really engaged and eager. After the class finished, a few students mentioned that they'd like to continue this or have more workshops like this.
For the students, I hope the class was interesting and informative, and left them with some insights that will help them in their efforts to learn programming. For us, this was a really rewarding experience. One of the best things about tech is the willingness of people to share knowledge, so I feel really strongly about making tech accessible for people and helping more people get into tech. It also helped that this was a group of truly lovely people, we had a lot of fun getting to know them and hopefully we'll get to work together in the future. I think I speak for all of us involved when I say we'd love to do more with Code Your Future.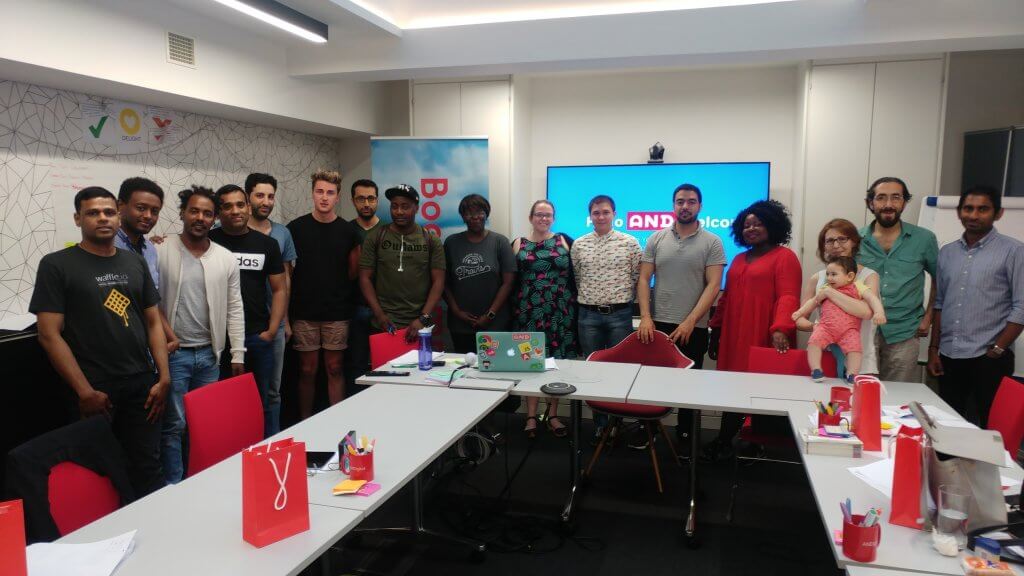 For more information about Code Your Future and how you can get involved, you can visit their website at https://codeyourfuture.co/index.html.
Careers
We're looking for bright, dynamic people to join our team!