Article
Election 2017: An Analysis of the Websites/Manifestos of the Conservatives, Labour and Lib Dems
7 June 2017 | Gary Houlihan | About a 10 minute read
Tags: 404 pages, 5G, Analysis, brexit, conservative, election 2017, eu referendum, featured, general election, Google Analytics, https, labour, lib dems, tech stack
And so we go to the polls again for the third time in two years, a Snap Election has been called, and on Thursday we make the call on who we send to Brussels for Brexit negotiations.
With that, as I've done in the past on the U.S Presidential Race and the EU Referendum, it's time to dive into the websites being used by the parties, and see if….well, if they are any indication of how a government under control of those parties would look like….. Are they Strong and Stable? Are they for the many not the few? Not that anyone would be really influenced by these kind of things, but hopefully should make for interesting reading, I hope. Again, as I've mentioned in previous blogs, we're being politically neutral on this one. We're just hoping the good guys win.
I'll be looking at a few items on each of these sites, things like do they have a HTTPS cert, how popular their site is compared to the other parties, how many trackers are they using, how many 404s they have and how good their 404 page is, and also, what their manifesto says about technology and how it might affect people like us here at AND Digital.
The Conservative Party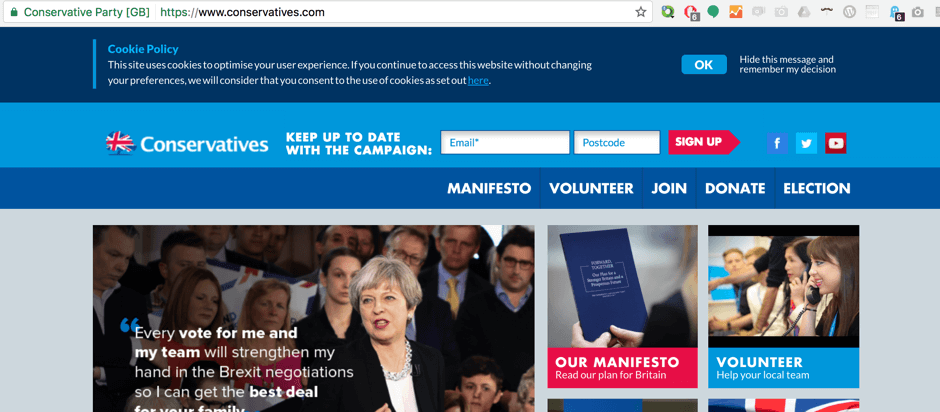 Let's start with the Tories, whose site can be found here . They get off to a good start by having a HTTPS cert (tick box on "Strong + Stable")
Alexa Rank

Their site currently comes in at 1687 overall for the UK. We'll have to see how this compares to the other parties.
Trackers
According to the Ghostery plugin, the Conservatives are using six trackers, I believe that we'll get other sites that are using a lot, lot more. For interest, these trackers are Social Media trackers like Facebook, Twitter Button and Twitter Syndication, Advertising trackers like DoubleClick and Facebook Custom Audience, and then unsurprisingly Google Analytics for site analytics. Why is knowing about trackers important? Well sometimes these sites can add a cookie to your site, and then follow you around the internet – hence why you might be seeing political ads on Facebook/Twitter.
It's usually worth checking out the Privacy Policy on the parties websites for this, in the case of the Conservatives, this isn't actually too easy to find. It's buried in a link from the Terms page, and the Privacy link on the homepage links to the terms page. Bit sneaky.
404 page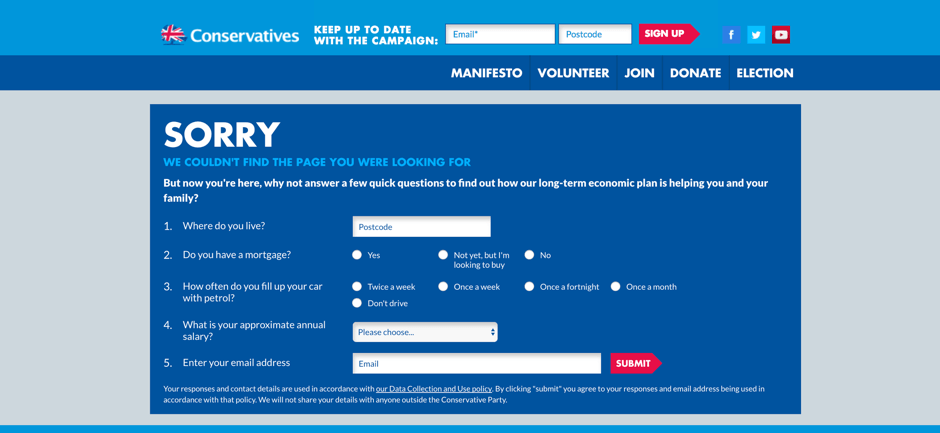 This, in my opinion, is a good example of a 404 page. I've been taken to a dead link, but instead of just telling me that, they also try to give me information about how voting for them could affect me, by asking me questions about where I live, if I have a mortgage, approximate salary and whether or not I drive.
As for how many broken links there are on the current conservatives website, the answer, at the time of writing, is 65. Broken links are bad for a number of reasons, they can hurt SEO and worst of all they may end up with people leaving your website. The good thing about the Conservative website is that you get a form and they try to sell you their party, even if you do end up on a dreaded 404 .
What does their manifesto say about technology:
You can read the entire Conservative manifesto here,  but, as we work in technology, I'm only going to focus on the technology part – as this could play a big part in our future, both for AND Digital and our clients.
For the Conservatives, one of their promises is to create a "Digital Charter" – which has two fundamental aims according to the manifesto, of 1. "that we will make Britain the best place to start and run a digital business" and 2. "that we will make Britain the safest place in the world to be online". Point 2 ties in with their promise to protect those young internet users and "require major social media platforms to delete information held about them at the age of 18".
As for online retail, which as of course AND Digital have many clients in this sector, the Conservatives pledge "to oblige all digital companies to provide clearer terms and conditions when selling goods and services online and support new digital proofs of identification."
There are also lots of pledges about connectivity, and that the "majority of the population will be covered by 5G by 2027" – which is quite ambitious really, as it doesn't really exist yet.
And now for a bit of fun…..
I don't have any words to describe this
The Labour Party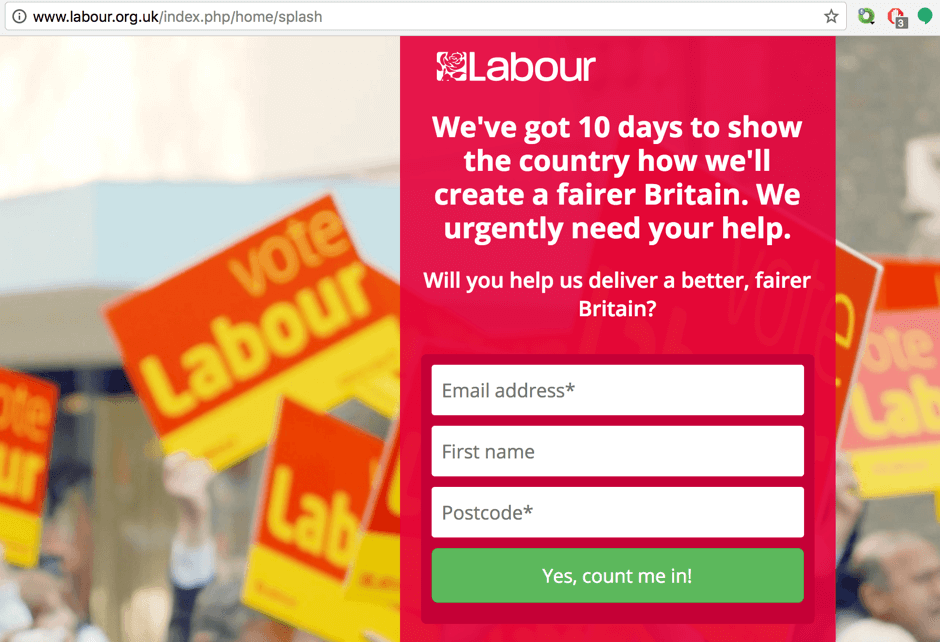 Not the best start for the Labour Party website, which can be found here, as they don't have a HTTPS cert, they do when you get to the Donate page, which is on a subdomain- but there are other parts on the site where they collect data, so….it would be best to have one on the entire site really.
Alexa Rank
A lot more popular than the Conservatives website it seems, at the time of writing. And with them supposedly gaining in the polls, lets see how this one pans out on election day.
404 page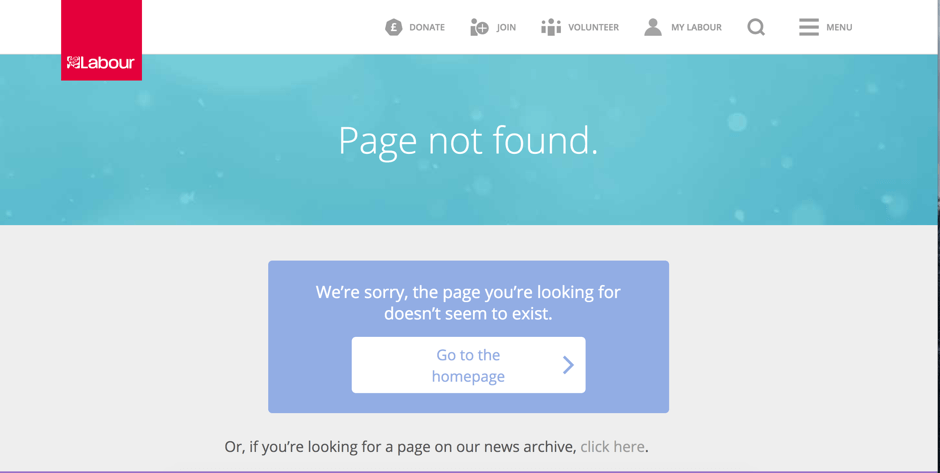 The 404 page isn't as good as the Conservatives one, it just tells you that the page hasn't been found. They really could have been a bit smarter here. There is a link to search the news archives, but I imagine this page has a very high exit rate. On the entire Labour Party site, there are 44 broken links (a lot of these are to external, dated Facebook pages – in the rush to get the site ready for the General Election, they probably neglect to do a crawl of the site to find these.)
Trackers
On trackers, they are using a lot more than the Conservatives, 13 in total. These include 7 advertising trackers (DoubleClick, DoubleClick Floodlight, Facebook Custom Audience, Google AdWords Conversion, Google Dynamic Remarketing, Turn Inc and Twitter Advertising), on Site Analytics they're using things like Google Analytics and Hotjar, and the usual social trackers.)
On the topic of trackers, I'd advise checking out the Who Targets Me plugin , available on the Google Chrome Store, as it allows you to track how the main political parties are inserting messages into your Facebook News feed.
What does their manifesto say about technology:
You can find the entire manifesto here if you fancy some light reading, but skipping ahead to technology, jump to page 15 where they promise to appoint a Digital Ambassador to "liaise with technology companies to promote Britain as an attractive place for investment and provide support for start-ups to scale up to become world-class digital businesses."
They're also keen to get on the 5G bandwagon too, this time promising all urban areas will have 5G coverage within the next decade. Ambitious.
An interesting one on page 51, and the Conservatives mention this too, about the Gig economy and the likes of Uber, Deliveroo etc, where Labour promise to "set up a dedicated commission to modernise the law around employment status" and more interestingly on Uber to introduce reform "legislation governing taxi and private hire services, introducing national standards to guarantee safety and accessibility, updating regulations to keep pace with technological change". Interesting times ahead if they pull this one off.
And now for a bit of fun…..
…it's CorbynRun, available on iPhone and Android. You play as Jeremy Corbyn running through the street, in, as the game's developer says, "a race against time to defeat a rigged system".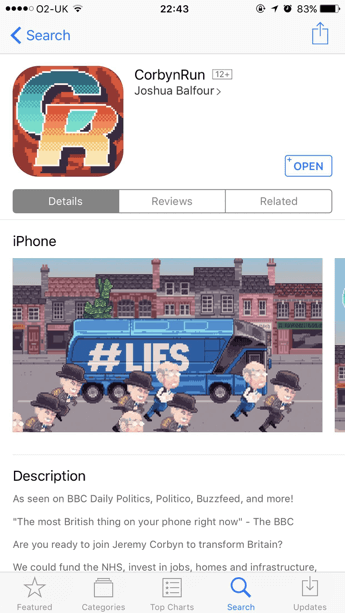 Watch out for the evil boss at the end!
The Liberal Democrats
While looking for the actual Lib Dem's website, I came across this: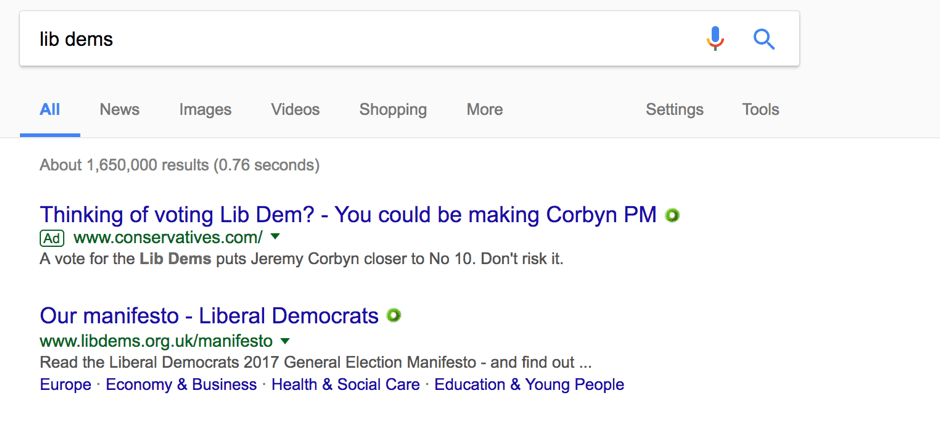 Which is a smart use of AdWords by the Conservatives, and something I didn't see the other parties doing.
Anyway, eventually getting to their site, found here, I am met with this: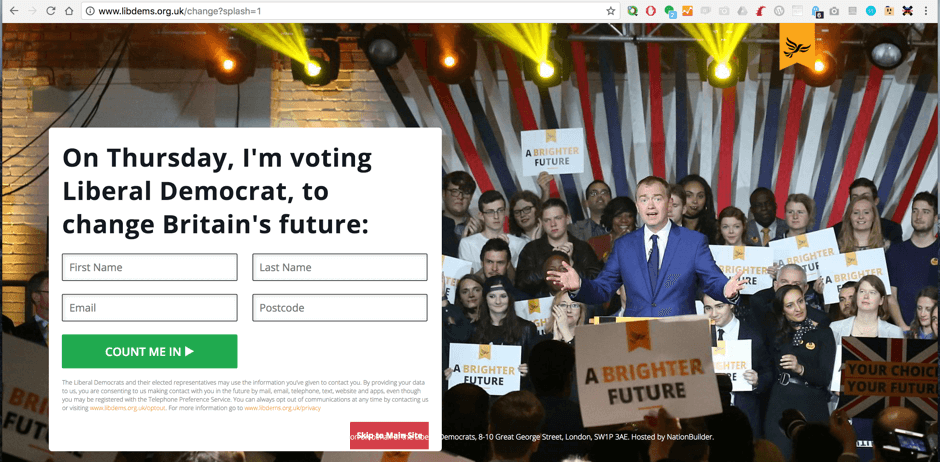 Which is a similar splash screen to the other parties, but the annoying thing about this, was that the "Skip To Main Site" button was covered by the party address details in the footer, which meant I couldn't actually get to the main site until I changed the resolution of my screen. They also don't have a HTTPS cert on this page, which again is a worry as it's a form used to collect personal details. Not a great start for Farron and co.
This site has been built by NationBuilder, now we've come across them before here where they built both the official Leave and Remain sites, and also sites for Labour in London and Sadiq Khan. And, as with the previous Leave and Remain sites, the Lib Dem site is using technologies like Ruby, Apache 2.4.7 and a whole host more you'd be able to see with the Wappalyzer plugin which you can get here.
Alexa Rank
More popular than the Conservatives, at the time of writing.

Trackers
As for trackers, the Lib Dems use the most of all 3 parties I've mentioned, with 15 in total, (7 advertising trackers, 3 Site Analytics trackers, the usual Social Media trackers and others such as Google Tag Manager)
404
We have a winner.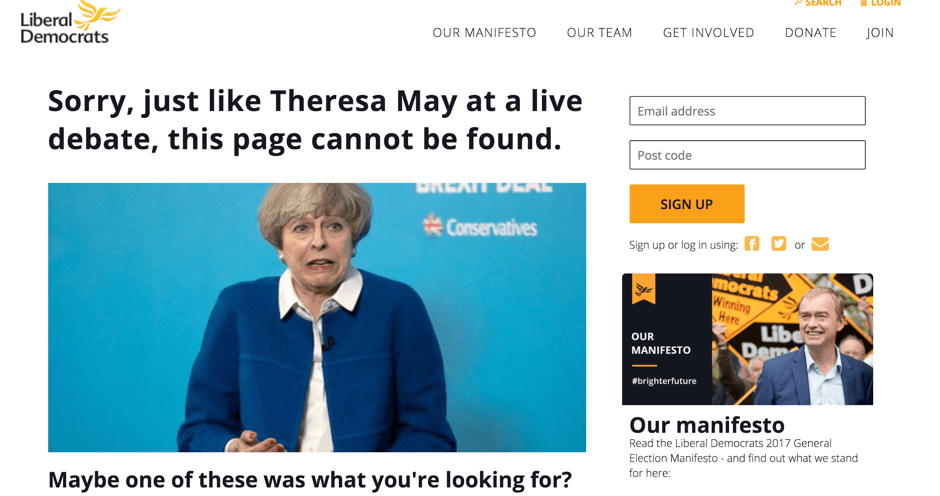 This is excellent. I really do enjoy 404 pages that are funny, yet still on this one, they acknowledge that it's a 404, and try to point me to what I was looking for. There's also a link to the manifesto, and a prompt for me to sign up. 10/10.
Still, quite a few broken links, so, really it doesn't take long to scan your site for 404s, it would be worth doing every so often.
What does their manifesto say about technology:
You can, if you'd like, read the full manifesto here. Actually, on this note, credit to all parties for having their manifestos in audio, braille, easy to read and British Sign Language format.  Back to the Lib Dems, skipping on to the technology parts, they have some interesting plans, jumping to page 40, they're pledging to create "a new 'start-up allowance' to help those starting a new business with their living costs in the crucial first weeks of their business." Now they decline to mention how much, and how long this funding would last, but it's a good way to encourage entrepreneurs. I'd be keen to see how this would work.
Skipping on to page 64, Driverless cars! The Lib Dems pledge to "encourage the swift take-up" of driverless vehicles. That's about all they say about them though. 🙁
They also, like both the Conservatives and Labour, are keen to sort out the Gig Economy by modernising "employment rights to make them fit for the age of the 'gig' economy". Also, interestingly, unlike the Conservatives and Labour, they're the only part I believe to mention about "rolling back state surveillance powers".
And now for a bit of fun….

A bit of fun-poking at Theresa May with a new Digital Poster, who has, according to Paddy Ashdown, gone from Strong and Stable to having "flip flopped on Europe having campaigned to remain and now pushing for an extreme Brexit".
---
Summary
You can make your own mind up from above, but it doesn't matter what I think. VOTE.
Read More From This Author
Careers
We're looking for bright, dynamic people to join our team!