Article
Do retailers need to embrace CUI?
7 March 2018 | Gareth Jones | About a 4 minute read
Tags: cui, customer user interface, retail, technology
One question that many retailers are trying to answer is – "How do we enable more social interaction?" Maybe the answer is in Conversation User Interface (CUI).
In a nutshell, CUI is:
A customer social engagement channel which is supporting the customer through the different stages of their lifecycle – underpinning customer self-serve

Search query and response – presented in an SMS-style view which is familiar to the customer

Powered by AI (Artificial Intelligence)

The ability for a customer to interact with a computer on human terms and provides a more social way for the brand to respond
CUI is not meant to be an agent led service, it should be an automated response to the customer's needs using customer knowledge and intelligence. CUI enables retailers to interact with a customer via new social channels. There are many ways to implement CUI, for example, embedding the functionality into websites, mobile app or integrated with social networks.
Before "chatbots", customers would speak to a sales advisor and the advisor would respond with a predefined script with little or no information. Customers can find this a frustrating and challenging experience. With Chatbots and AI frameworks readily available, retailers can develop an engaging, intuitive, and immersive social experience within the available channels. By establishing a social CUI platform, this will allow retailers to respond to customer requests in new initiative ways – for example, product recommendations.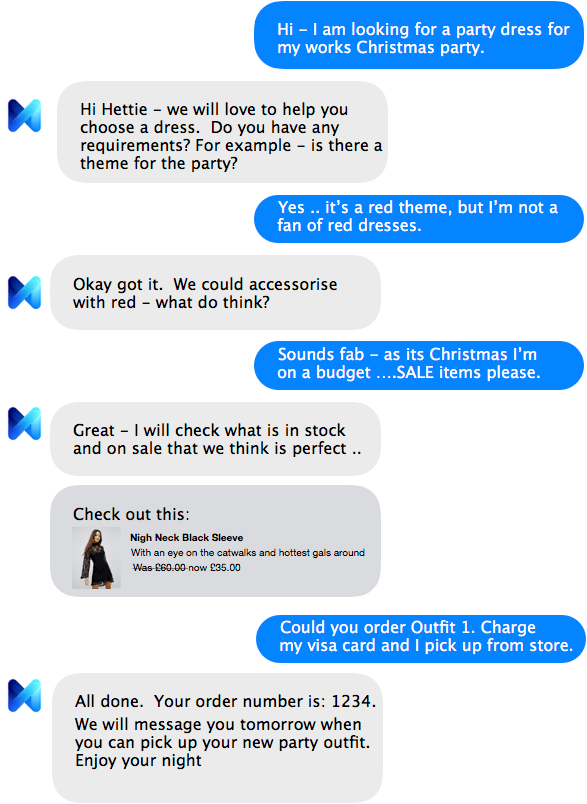 What is the need for CUI?
Customers want new natural ways to interact with businesses and also want to have a conversation. CUI is a way to achieve this – it provides a standard and well-understood interface and can ensure consistency of message as it is computer generated. Everyone is using WhatsApp or chat platforms, so customers are familiar with these SMS-styled views as they use them on a daily basis.
The benefits of CUI can be categorised into the following:
The speed of response

: Unlimited AI advisers powered by machine learning, response times to customer queries would be cut down significantly – especially when integrated into the core retail stack  

Quality or response

: AI can learn, this knowledge is shared and provides consistency of message

Instant Feedback:

as you are having a conversation with the customer the customer can provide immediate feedback. For example, when recommending a product then the customer will respond with a like or dislike and may give a reason for their decision.

Cost reduction

: The level of automation AI brings will generate resource efficiencies – this capacity can be utilised elsewhere in the organisation
CUI is a game changer to how retailers can interact with customers. I would put this at the same level as what mobile has done to the desktop. Ultimately this means customers will take us there – if you cannot support how the customer wants to interact with you they will find a competitor who will. If you have not got a CUI roadmap, then you should understand the impacts of not. CUI needs to be in your plans and investment pipeline, but any investment should not necessarily get prioritised over getting the basics right. For example, there is more value in keeping a customer delivery promise, over offering customer new ways of customer interaction.
There are many considerations you need think about before deploying CUI:
Firstly, think about what this means from an organisation point of view – who owns the customer interaction? As CUI can cut across so many areas of the customer lifecycle, then consideration needs to be given to who has the responsibility for the end-to-end customer experience. Typically, the head of e-commerce is accountable for all elements of the online and digital journey but not for customer service.
The implementation of CUI does not fit with a large waterfall delivery; to succeed then a 'test and learn' approach should be adopted. Any CUI initiatives should be business driven and not IT focused. Technology is the foundation of CUI, and it is easy to slip into "this is a technology project". Your organisation needs to work out how to bring the business and technology together in order to be truly successful. Typically in agile delivery environments, this is achieved by Product Groups.
Alignment with your business vision – CUI is perfect for retailers with an online first and customer-centric strategy. CUI focuses on the customer; it puts the customer first.  Therefore, if your organisation is "product" led then CUI may fail as the conversation will be on your terms and not what the customer wants. Putting the customer first means you have to think about your organisation structure.
So do retailers need to embrace CUI? The simple answer is Yes. It needs to be one of your top priorities but not at the expense of getting the basics right of customer service and careful consideration is required to how you are going to deliver a truly exceptional experience.
Read More From This Author
Careers
We're looking for bright, dynamic people to join our team!