Article
Designing Innovation AND Running Ideation Sessions: Part 2
20 March 2018 | Maryana Kartashevska | About a 6 minute read
Tags: design, ideation, Innovation
Ideation sessions are an integral part of Ideate, which is the first phase of our tri-part Ideate, Test and Learn innovation process model (see Designing Innovation: AND Ideation). In this blog, I make a few recommendations on running ideation sessions, specifically relating to selecting a theme, diversifying engagement, getting the space right and learning through failure.
Selecting a theme
A theme is important for ensuring that ideation sessions are focused on business needs and align to the broader corporate strategy. When looking to select a theme, it is useful to consider any existing challenges presented by the industry and any business-specific issues but also to have the freedom to explore opportunities outside of these.
Industry challenges
A good starting point for selecting an Ideate theme is to look at the challenges presented by your industry and how they impact the business. This can be done by:
Identifying existing industry challenges

Considering emerging industry challenges and trends

Assessing whether these present a challenge for you
Business specific challenges
Alternatively, you could look at challenges specific to the business, which are agnostic of the industry. For the most comprehensive results, data on these should be gathered through different channels, looking both internally and externally, including;
Client feedback

Employee feedback

Benchmarking and competitor analysis
For example, firm-wide questionnaires, internal 'new idea of the month' competitions and client feedback forms.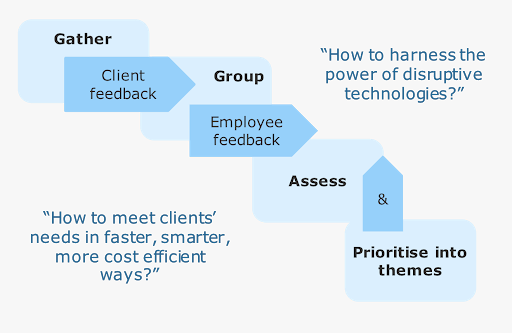 Bold opportunities
At least 25% of ideation sessions should be purely creative, not driven by a challenge theme. It is an opportunity to be bold and explore new, revolutionary ideas. Though these bold opportunities may not address existing or emerging business needs, they can often mitigate yet unknown challenges or the unexpected events.
Diversity of engagement
Ideal group composition for an ideation session includes participants of diverse backgrounds and mixed degrees of pre-existing levels of interaction:

Diverse teams make better decisions because they bring a wider variety of educational backgrounds and expertise into the room

Sociologist Brian Uzzi suggests that a mixture of participants who know each other and newcomers to the group helps to facilitate interaction and social cohesion without the pitfalls of groupthink

Participants should also be free to innovate; avoiding direct reporting lines in the group removes the pressures to conform, enhances problem solving and quality of output
An ideal group is 12 or 18 participants because it is large enough to produce diversity of thought and at the same time easy to break up into smaller teams of 2 or 3 when it comes to ideation activities:
Invite participants from across the business, from different sectors and services

Ensure that various levels of seniority and role profiles are represented

Include representatives from the product team and business support functions

Consider including clients in the more mature Ideation sessions
Open innovation
Closed innovation models, where creativity is confined to small teams in Research and Development departments, are increasingly a thing of the past. Even heavily IP driven companies like Apple and Tesla rely on cross-departmental engagement as a route to innovation.
Compare to a more externally open innovation model, like Lego's Shared Vision initiative, which aims to connect people not only internally but also outside of the business. The Lego Ideas website allows anyone to suggest an idea for a Lego set and with enough community support see it through to production.
Open innovation is the way forward and it is becoming increasingly popular amongst some of the most successful businesses. Think Citymapper, Wikipedia, Spotify, Zoopla to name just a few (for more on innovation process models see Innovation Process Model: Friend or Foe).


Getting the space right
Having the right space is important for fostering creativity and innovation during ideation:
Participants should be free to manage and rearrange the space as needed on the day

Healthy food and beverages help to maintain energy levels and invite opportunities for social interaction and group bonding

A more casual dress code can help to create a comfortable, relaxed environment
MIT's Building 20 and Pixar's atrium structures are good examples of how space can breed collaboration, creativity and innovation.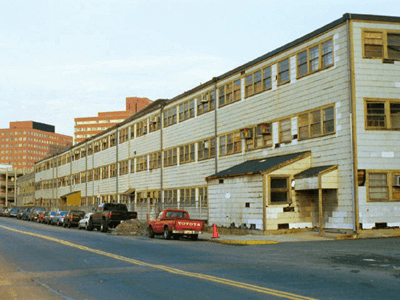 On the day
AND Digital ideation sessions and workshops are short and, like the rest of the process, well-structured. The goal is to generate as many innovative ideas as possible, using a range of best-of-breed techniques, adopting a three-phased approach:
Divergent

phase – during which participants come up with as many new ideas as possible using creative, associative and exploratory thinking

Emergent

phase – where ideas from the divergent phase are explored in more detail, categorised and built on

Convergent

phase – the refinement phase during which ideas are analysed and the most promising are selected based on desirability, feasibility and viability
Fail fast and learn from it
The ability to fail fast and learn from the things that did not go to plan is vital to efficient, successful Ideation:
Innovation is a process of trial and error – failure is a natural consequence of being bold, generating and exploring new ideas

Efficient failure should be perceived as a positive outcome because it is a definitive outcome, which allows the team to move on to other ideas

In this sense, participants should be celebrated for being bold, taking the risk and trying something new
Conclusion
Structured collaborative, diverse and ongoing engagement is key to successful ideation. In the next blog, I explore what happens to ideas after ideation, in the Test phase.
Read More From This Author
Careers
We're looking for bright, dynamic people to join our team!