Article
Designing Innovation AND Ideation Sessions: Part 1
8 January 2018 | Maryana Kartashevska | About a 5 minute read
Tags: creative, design, Digital, ideation, Innovation, process, professionalising Digital, tech
Designing Innovation: AND Ideation
Innovation is a highly creative process, but one that requires structure to be most effective. Structuring innovation inevitably involves some form of process model and the prevailing approach is open innovation. This extends ideation and knowledge share beyond the boundaries of the organisation to its customers, creative communities and sometimes even its competitors.
In the previous blog on the topic, Innovation Process Model: Friend or Foe, I explored the longstanding history of innovation process models, their evolution and the importance of structure in realising business value. In this blog series, I'd like to look at how we approach innovation design at AND Digital within our Guide offering https://and.digital/what-we-do/guide/.
AND Digital approach to innovation design
AND Digital's Guide offering and business design go hand-in-hand. Our process models are cross-sector and range from traditional operating model designs to business innovation. Designing innovation into the business is a complex and iterative process, entrenched in established theory but with many creative components and consisting of multiple stages. At high level, we call these stages Ideate, Test and Learn.

I start the blog series by exploring stage one on ideation, which is the way strategic innovation ideas come about.
What is Ideation?
Ideation is a creative process that supports the discovery and formation of new, bold ideas. Greatest value is achieved when collaborative involvement is aligned to strategic business needs and participants have both the freedom to discover and a clear method for mapping ideas to opportunities.
Therefore, the hallmarks of a comprehensive ideation process include:
Collaborative engagement

– with participants of diverse roles, skillsets and backgrounds; both from across the business but also external to it, such as customers, experts and interest groups

Ideas that

address a business need or solve a problem

– valuable new ideas are strategic in nature and can be commercialised because they address a business-specific need, industry challenge, or identify new opportunities that give the business a competitive advantage

Unconstrained freedom to be creative

– access to facilities and opportunities that encourage innovation, aligned to the motto 'make time, make space, make for everyone', including regular ideation sessions and ongoing support for new, bold ideas

Robust structure

to support strategic ideation – a process that maintains ideation momentum and ensures valuable ideas are identified and taken through to implementation
Types of ideation
We make a distinction between two types of Ideation, focused and ongoing, because they require different approaches:
Focused

– focused ideation helps to generate a wealth of new ideas to fill the innovation funnel through collaborative ideation sessions

Ongoing

– ongoing ideation helps to keep track of emerging technologies and industry trends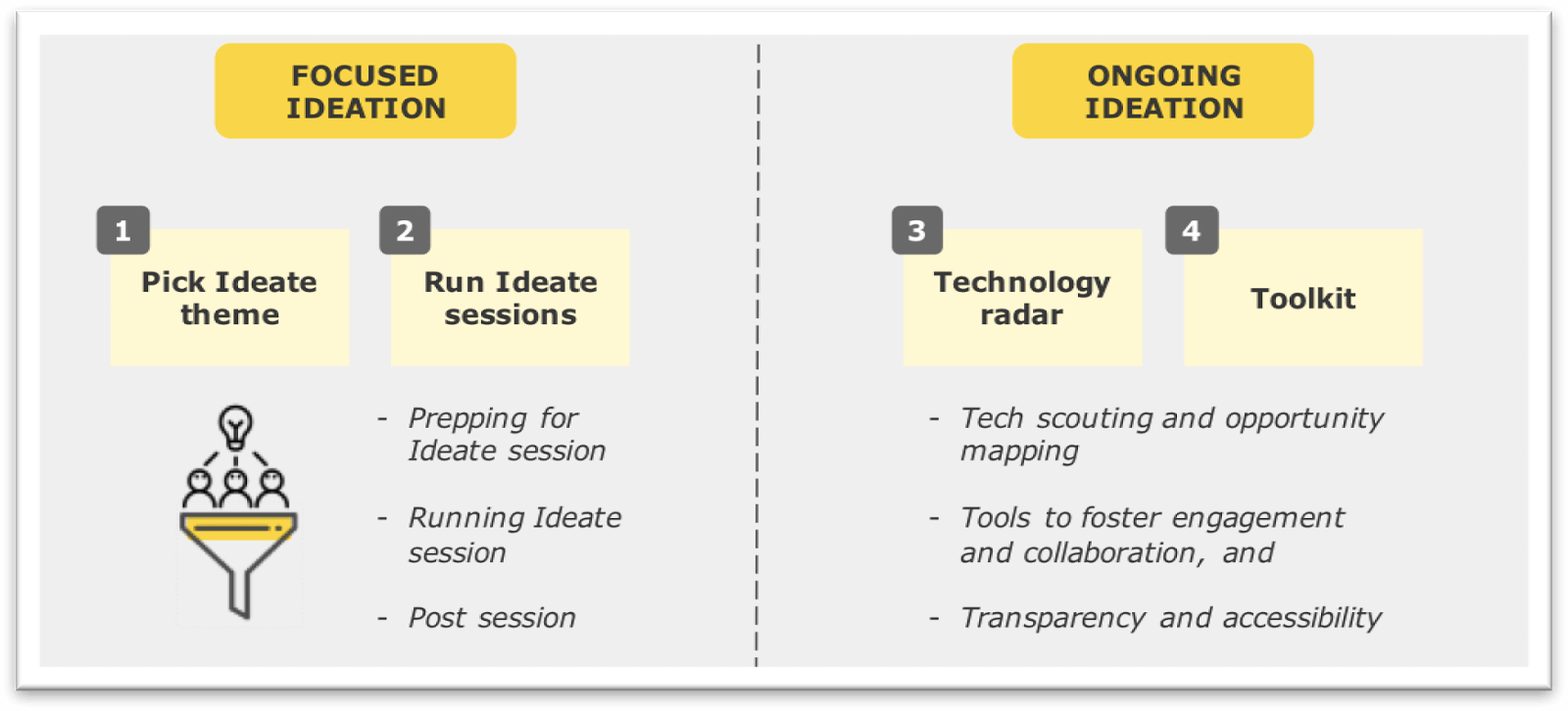 Focused ideation sessions
The process of focused ideation starts with an ideate theme. The objective is to align ideation to corporate strategy and business needs so that ideas are not generated in vacuum but have commercial value. The theme can be remedial and focused on existing business or industry challenges. It can also be purely exploratory – an opportunity to explore new, bold opportunities. Across the spectrum of incremental, evolutionary and revolutionary innovation, it is the exploratory sessions that tend to produce the most disruptive innovation, whereas remedial themes are useful for driving upgrades and enhancements to the business.
Once a theme has been identified, some pre-work is required ahead of the session to prepare materials and space, agree roles and responsibilities, and secure diversity of engagement. During the session, the focus is on generating as many ideas as possible, which are then analysed, evaluated and refined, before the most promising are selected based on customer desirability, technical feasibility and commercial viability. After the session concludes, some follow up and idea tracking is required, which then turn into ongoing ideation efforts.
Ongoing ideation efforts
Ongoing ideation involves continuous technology scouting, which need not be industry specific. A technology radar is a useful tool to inspire and support teams in considering and applying the best technologies relating to languages, frameworks, infrastructure and data management. Much like in focused ideation, the principles of transparency and accessibility, ongoing engagement and collaboration are imperative to ensuring success.
Conclusion
As we have seen, innovation is a multivariate process that requires strategic and structured but unconstrained diverse collaboration to be most effective. Before looking at what happens in the Test phase, I delve into some tips on structuring and conducting ideation sessions in my next blog, Designing Innovation: AND Running Ideation Sessions.
Who are Professionalising Digital??
Professionalising Digital are a team of experts who design end-to-end digital transformations, from vision through to product delivery. We are the Guide element of AND Digital's tri-part Guide, Build and Teach service model. Our role is to equip our clients with the processes, technologies, tools and talent needed to achieve their digital aspirations and the wider business objectives. To find out more about what we do and how we can help please do not hesitate to reach out to anyone in the team. https://and.digital/about/people/prof-digital/
Read More From This Author
Careers
We're looking for bright, dynamic people to join our team!