Article
Celebrating Ada Lovelace Week – Day 1 An Interview with Laura
10 October 2016 | About a 6 minute read
Tags: Ada Lovelace, ANDtech, Developers, Development, london tech jobs, STEM, Women in Tech, Wonder Women
The second Tuesday of October every year is Ada Lovelace Day. Since 2009, the UK has been recognising this day as a way to celebrate women in the STEM fields.
If you're not quite sure who Ada Lovelace is, she's credited with being the first ever computer programmer. A friend of Charles Babbage's, she wrote what was essentially the first ever program, designed for his Analytical Engine.
Since Ada, there have been many extraordinary women who have made significant contributions to the field of computing. One of the most well known is Grace Hopper, inventor of the first compiler for a programming language and contributed significantly to the creation of the COBOL programming language; or Margaret Hamilton, who was Director of the Software Engineering Division of the team that wrote the on-board software for Apollo space program.
Unfortunately, women have traditionally been underrepresented in the STEM fields. Only approximately 25% of computing professionals are female, less than the 35% in the 1990s, but about the same as there was in the 1960s. Thankfully, we've still come a long way since the 1960s. Katherine Johnson was one of the first black female computer scientists, worked for NASA, and co-authored 26 scientific papers. She also wasn't credited for a single one, as the practice at the time was not to list women as authors on scientific papers. This is the same woman who calculated the trajectory for the 1969 Apollo 11 flight to the Moon, but yet she wasn't allowed have her name listed on a paper.
Ada Lovelace day is about celebrating women like this and giving them the recognition they deserve – both for those who paved the way in the past, and those who are creating and discovering amazing things today.
At AND Digital, we take pride in the fact that we try to have a gender balanced workforce. We have some brilliant, talented colleagues – both male and female. To put our own spin on Ada Lovelace Day, we decided to celebrate our own Ada Lovelace Week, with a series of blog posts from some of our female colleagues about their experiences of working in tech.
We hope you enjoy reading these posts, and if you're interested in working somewhere that is always striving to create a diverse, talented workforce, then get in touch – we'd love to chat!
Laura Hanna-White
Associate Developer AND Bibliophile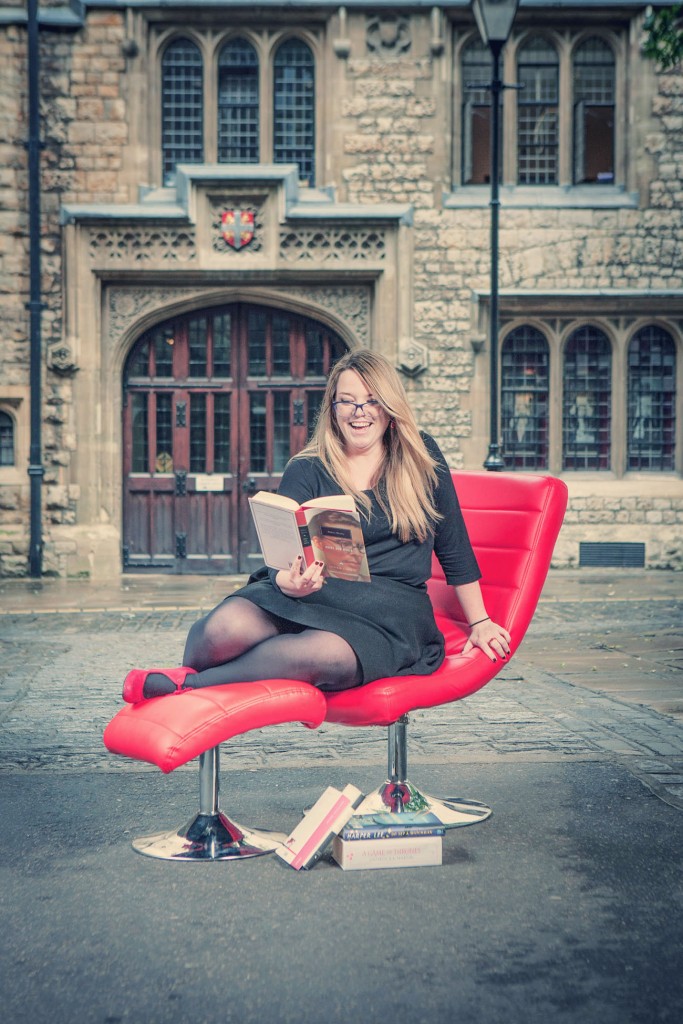 As an associate, we're given an opportunity to learn about different areas of the business, before deciding what route to go down. I've always known I want to be a developer, but it's been great getting to learn about different roles that I may not have otherwise experienced.
What led you to work at AND Digital?
I joined AND Digital right after I finished university. I studied Computer Science with Artificial Intelligence at City University London, and was approached by a recruiter in around February of my final year. At this point, I was up to my eyes with dissertation deadlines, and wasn't actively looking for graduate roles, but I thought AND Digital sounded like an interesting place to work. An interview with our CEO, Paramjit Uppal, and our Chief Happiness Officer, Debbie Martin, solidified this. I loved what they had to say (and loved the fact that 'Chief Happiness Officer' was a role within the company). The hiring process was really painless, I got an offer a few days later and gladly accepted.
What sparked your interest in IT?
Growing up, my mom was in tech – initially as a developer, later as a project manager, so it meant there was always a computer in the house. I always loved playing around with computers, and first learned some basic HTML when I was about 15 and wanted to customise my MySpace page. It wasn't until my masters though that I really got a taste of programming. I studied Multimedia back home in Ireland, and along with a myriad of other subjects, there were some programming modules. The very first thing I ever made was a game in ActionScript based off of Disney's Alice in Wonderland where you had to paint the roses red.
Later, when I moved to London, I was working in IT Recruitment. I was terrible at it, but I loved the sound of the roles I was trying to recruit people for. A couple of years later, I finally worked up the guts to quit my job, go back to university and get one of these enviable jobs for myself.
What challenges have you encountered along the way?
Quitting my job and going back to university was daunting. I finished school at 17 and did a degree in journalism and a masters in multimedia before moving to London. I don't think, at 17, I had a clear idea of what I really wanted to do, and graduating around the time of the economic crash in Ireland didn't really lend itself to a lot of opportunities either.
At the time I decided to go back to university, I was in a pretty comfortable job that I enjoyed, but I just didn't feel the passion for it that I'm now so lucky to have found. Even though I knew that going into tech is what I really, really wanted, it was scary giving up a steady job for something I could only hope was going to work out.
Also, because this was my third time going off to university, I was a bit older than a lot of my peers. A lot of people talk about the feeling of imposter syndrome and feeling like you don't belong, well I can definitely empathise with that.
My degree was tough going, but incredibly rewarding. There were a lot of nights I was up until dawn, trying to get my code to do what I wanted it to, plenty of times I felt frustrated that I couldn't get my head around some new concept and many days I wondered if the stuff I was studying was ever just going to sink in. Plenty of my classmates had been coding since they were kids and took to the things we were learning naturally, which often left me feeling like I was never going to get it – but I did, and all the work was so worth it.
Who has inspired you?
There are a lot of people who are doing some incredibly amazing things in tech right now, but the people who have inspired me the most are the people who have had the most direct effect on my career.
My mom was the one who first introduced me to computers, and I've always admired her for being able to balance both family life and career – and do a stellar job at both. At the time she studied Computer Science, she was the only woman in the class – and she was pregnant with me at the time. I found it tough enough studying with only myself to take care of, imagine doing it with a baby! I was at her graduation as a toddler, and it meant a lot to be able to have her at mine as an adult.
I'm also constantly inspired by the people I'm around every day. I work with some really talented, really smart people and I have yet to come across one who isn't happy to collaborate and share their knowledge. Working in the industry we do, where we are often on client site, it's great to feel like you have that strong support network with your colleagues.
How would you like to inspire others?
We always hear about the gender gap in tech, and the deficit of women in technical roles in general, and it's true. Personally, I feel like one of the biggest ways we can bridge this gap is not within our generation, but those coming up behind us. I was really lucky to have someone like my mom to look up to, but I think young girls need to have more women showing them the cool things they're working on and letting them know that these are possibilities that are open to them too.
As part of AND Digital's CSR program, Helping 'AND, we sometimes visit schools to give talks to the students about what we do and how we got there. I love doing these kind of events, and if I've helped make an impact on even one kid who would now like to be a developer, then that's pretty awesome.
Careers
We're looking for bright, dynamic people to join our team!
React Native Engineer (London)

Champion software quality and technical vision for AND and our clients, work on large-scale projects and help junior and mid developers grow in their roles.

Technologies you will be using

javascript

react

terraform

docker

gulp

gitlab

grunt-seeklogo

jira

I'm Interested

Tech Lead (Reading)

Bring your expert tech knowledge to the table to influence the direction of projects, whilst coaching and your team through engineering best practices.

I'm Interested

DevOps Lead (Reading)

Bring your delivery expertise to the table, leading the pack as ambassador on operational requirements, influencing and continuous development.

I'm Interested
Discover More Roles